Fabulous at 50
There are so many wonderful women (and men) looking truly fabulous at 50, we started to wonder whether 50 was the new 40, or even the new 30? As we age, we aren't following the same path as our parents, and in fact we are embracing aging as being more comfortable in our own skin, and continuing the activities we enjoyed when we were younger. There are a slew of celebrities turning 50 this year (or have already turned 50 this/last year). There must have been something in the water, as each and every one of them still look absolutely head-turningly fabulous. Let's see which of our favourite celebs have/are turning 50, and embracing 50 with style.
Julia Roberts – Born October 28 1967
After starring in Steel Magnolias with a group of Hollywood alumni in 1989, our favourite Pretty Woman burst onto the big screen in 1990 in THAT movie, scoring an Oscar nomination, and winning the People's Choice award for Favourite Actress, and a star was born. More movies followed, including Erin Brockovich in 2000, for which she won an Oscar, and Rom Coms such as Notting Hill, Valentines Day, Runaway Bride, and My Best Friends Wedding. Roles in serious movies such as Sleeping with the Enemy, The Pelican Brief, August Osage County, Eat Pray Love, Oceans Eleven, and Wonder cemented Julia as one of the most versatile actresses of her generation. Julia is also a strong supporter of UNICEF, and has made many visits to countries (including India, and Haiti), to promote goodwill.
Naomi Watts – Born September 28 1968
We think of Naomi Watts as an Australian actress (she was actually born in England, and moved to Australia when she was 14, so we'll claim her). Naomi starred in many Australian movies and tele-series, including Flirting, Brides of Christ and For Love Alone (and she has also appeared on Home and Away, and who can forget the ad with her turning down a date with Tom Cruise for mum's lamb roast!), before moving to Hollywood. Naomi first appeared in Tank Girl, and then scored her breakout role in Mulholland Drive, which brought her to the attention of Hollywood Elite in 2001. Movies such as the box-office hit The Ring, and 21 Grams (for which she scored her first Oscar nomination) and The Painted Veil followed. Naomi has more recently starred in the re-make of King Kong (which was shot in New Zealand), and The Impossible – the story of the 2004 Boxing Day Tsunami (for which she garnered her second Oscar Nomination).
Gillian Anderson – Born August 9 1968
Originally a theatre actor, Gillian Anderson is best known for her role as Agent Dana Scully in The X-Files, which she starred in from 1993 until the original series ended in 2002, with her character bringing a rational grounding to Agent Fox Mulder's open minded belief in the paranormal. Gillian's work on the series resulted in her winning 2 Screen Actors Guild Awards, an Emmy Award, and a Golden Globe Award. Gillian returned for the later 10th and 11th seasons before calling it quits. In addition to The X-Files, Gillian appeared in movies including The Last King of Scotland and Shadow Dancer, TV mini-series Bleak House, War and Peace, and the critically acclaimed TV series The Fall.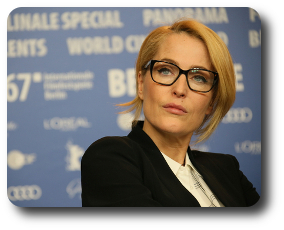 Hugh Jackman – Born October 12 1968
The multi-talented actor, singer, and dancer Hugh Jackman was born for showbiz. Best known for his long running role as Wolverine in the X-Men movie franchise, Hugh has appeared in numerous movies, including his early movies Kate and Leopold and Van Helsing. His versatility has lead to him being cast in many musicals including the epic Australia, Les Miserables (for which he scored a Golden Globe and Oscar nomination), and The Greatest Showman. Before heading to Hollywood, we saw Hugh in renowned Australian productions, including Correlli (where he met his future wife Deborra-Lee Furness), and Erskineville Kings. Hugh's singing and dancing ability has seen him cast in many theatre productions, including The Boy from Oz, for which he won a Tony Award, and Oklahoma.
Kylie Minogue – Born May 28 1968
Kylie Minogue, now best known as a singer, became a household name in Australia (and later Britain) thanks to her long running role as Charlene in Neighbours. Her path on the road to stardom was complete after a record company executive heard her rendition of "The Loco-motion". Kylie signed with Stock, Aitken and Waterman, and released a slew of pop hits, making history for having over 20 consecutive top 10 hits in the UK (and was awarded an OBE in 2008 for services to music). Kylie has continued to make music for over 20 years, and has collaborated on duets with Nick Cave and Robbie Williams. Kylie's awards are too numerous to mention – MTV awards, a Grammy award, Logie awards, Brit awards, and many (many) more. Showcasing her versatility, Kylie has made a number of movies, including The Delinquents, Moulin Rouge, and Street Fighter.
Eric Bana – Born August 9 1968
Passionate St Kilda Football follower, Eric Bana would seem an unlikely serious film actor, after first becoming known to Australian audiences as a comedian, before moving over into serious roles. Comedic roles in Australia included regular appearances in Full Frontal, and a role in the Australian cult classic The Castle. Eric starred in his first serious role as the menacing Mark "Chopper" Read in the Australian hit Chopper (for which he won an AFI award). After moving to Hollywood, Eric found fame in movies such as Black Hawk Down, The Hulk, Munich, Troy, The Other Boleyn Girl, and The Time Travelers Wife.
Nutrimetics – Established October 16 1968
It's not only famous people who are looking fabulous at 50, one of our favourite Beauty Brands is turning 50 this year, and it isn't showing its age at all. The Nutrimetics story began a long (long) way away in the Hunza valley of the Himalayas, when a group of Western explorers were studying the Hunzakut tribe and their way of life. Despite the extreme conditions of the Himalayas, the Hunza had wonderful youthful complexions, and it was found that the key to their smooth and youthful skin was Apricot Kernel Oil. Fast forward to 1968 and Nutrimetics was founded by Bill and Imelda Roche, with the launch of the legendary Nutri-Rich Oil. Apricot Kernel Oil still forms the core of the ingredients for the heritage Nutri-Rich range, and has helped thousands of Australian women maintain a youthful complexion over the years. We love the Nutri-Rich range, still with the enriching Apricot Kernel Oil, keeping us youthful, beyond 50 years.
Would you like to WIN a gorgeous Limited Edition 50th Anniversary Nutri-Rich Oil? Click here to head over to our competition page to enter. We are running a competition on Facebook and Instagram too, so click on the links below, and enter there too. Good Luck.
So there you have our fabulous celebrities (and one beauty brand) living life to the full at 50 (or almost 50). Are you approaching 50? Have you already hit the milestone? How will you / have you embraced  the wondrous age? Let us know in the comments below. And as 50 is the new 30/40, stay tuned for our piece Sensational at 60, celebrating those wonderful men and women who will fly the flag of youthfulness at 60.