Christmas Gifts under $50
This time of year can start to get a bit expensive for most of us, with gifts to buy, parties to attend, and the Christmas lunch itself. We've taken a look at the best gifts you can buy for under $50, to help with your budget this Christmas. And the gifts are stunning – they look so good, no-one will know how little they cost – that's just a secret between ourselves – OK?
OPI Mini's 10 Pack
You're sure to be popular if someone unwraps this on Christmas morning. Featuring some of OPI's most iconic shades, this gift pack is almost too good to give away. With 10 of their most popular shades, including Alpine Snow, Mad About You, Tickle My France-y, Big Apple Red, and Cajun Shrimp, OPI have pulled together a gift pack of mini nail polishes that are a must have under the Christmas Tree. Now the only question is, do you buy it for yourself, or for someone else? At this price, you might even do both. RRP $44.95.
philosophy Wintery Nights
The philosophy Wintery Nights 3 piece gift sets is perfect for the hard to buy for, and it's just so Christmas-y. Featuring a lush scented trio, the pack contains philosophy twinkling starlight shampoo, shower gel, and bubble bath 180ml, philosophy shimmering snowlace shampoo, shower gel, and bubble bath 180ml and philosophy sparkling holluberries shampoo, shower gel, and bubble bath, this is a great set for any female, and with the multi-purpose products, they can take them away with them on holidays. RRP $39.00.
MOR Wanderlust Set
This cute little duo is just perfect for those on a tight budget this Christmas. The Correspondence set contains an Argan Oil rich Hand Cream 100ml, and a Shea blended Triple-Milled Soap 180g, both in the soft romantic scent of Kashmir Petals. At this price, you might want to grab a couple, for your mother, mother-in-law, your neighbour….. RRP $24.95
Jurlique Signature Rose Duo
The scent of rose is so timeless, and this Jurlique set features two of their best selling Rose items in the one set. Containing Rosewater Balancing Mist 50ml, and Rose Hand Cream 40ml, this is a gorgeous gift anyone would be happy to receive this Christmas. Both products are small enough to fit in your hand bag, so will keep the recipient looking good all summer long. RRP $49.00 (with a value of $64.00).
Mrs Darcy Mini Candle Votive Set
Mrs Darcy is a newish Australian brand, and this mini candle set is just perfect for our Australian Christmas. Featuring 6 mini candles, in lush scents of Capri Rose: Orange, Rose & Peach, Soho Goji: Grapefruit, Goji & Pear, Ray of Light: Blackberry, Green Apple & Orange, La La Sugar: Blackcurrant, Lemon & Mimosa, Flower Crown: Raspberry, Sweet-Pea & Coconut, and Love Dust: Pear, Cassis & Neroli. The candles are encased in coloured glass, with a starluxe finish, with little stars that sparkle as the candles are lit. To be sure – a gift that any woman would love to open on Christmas morning. RRP $49.95.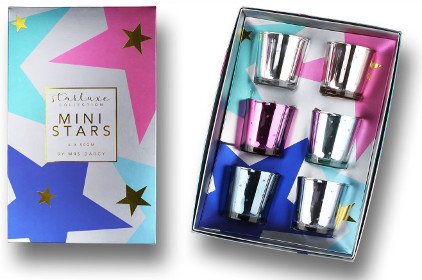 theBalm In theBalm of Your Hand Volume 2 Palette
If you need to get a gift for teens or women in their 20's this Christmas, then this may just be the perfect option. This all-inclusive must have features 4 blendable eyeshadows, 3 flattering blush colours, a matte bronzer and champagne-hued highlighter. Limitless looks await with everything you need "In theBalm of Your Hand"! It's the handbag beauty bar that takes the giftee from day to night in a flash. RRP $39.95.
A'kin Stocking Filler Gift Set
Whilst we will have a stocking stuffer post this Christmas, we thought this set was just perfect for the Gifts Under $50 feature. Containing A'kin's Hydrating Mist Toner 150ml – a hydrating and refreshing summer essential, and mini Cleansing Micellar Water 30ml. Packaged in a beautiful box with a bonus Day Cream & Night Cream Sachet, this coconut water and organic green tea collection will provide hydrated and nourished skin, perfect for an Australian Summer. The set makes a perfect gift for young and not so young, and has a budget friendly price. RRP $19.95.
DKNY Be Delicious Mini Set
It's not often you can get a fragrance gift set for under $50, but if fragrance is on your "to buy" list this Christmas, and your budget is stretched, this might be perfect for you. Featuring 3 delectable DKNY 7ml Mini's, of Be delicious, (green), Be Tempted (red), and Be Tempted Eau So Blush (pink), the recipient of this gift set will go from day to night, and summer to winter with ease, with these handbag friendly fragrances. RRP $49.00.
Burt's Bees Burt's Bag of Treats
If you are looking for a more natural Christmas gift for your nearest and dearest, this could be just the trick. Containing Burt's Bees Beeswax Lip Balm, and Vanilla Bean Lip Balm 4.25g each, to keep your pout hydrated, Hibiscus Tinted Lip Balm 4.25g, a sheer pink tint that suits just about anyone, and a simply divine fragranced Milk & Honey Body Lotion 70g,all packaged in a quality makeup purse your giftee will be looking fabulous all summer. RRP $24.99 (valued at over $50).
Nutrimetics Freesia & Gardenia Hand Duo
This Dynamic Duo from Nutrimetics is a great gift for last minute guests, teachers etc. Chic and easy gifting in one set. Infused with traditional florals, this matching Soap 100g and Hand Creme 50g duo capture the essence of classic Freesia and Gardenia. Gift wrapped in a complimentary pillowpack of the prettiest watercolours, the hardest part is deciding whether to keep it for yourself or give it away. Also available in Magnolia & Lily, and Violet & Pink Orchid. RRP $12.90 (valued at $28.00).
Sukin Super Greens Christmas Gift Pack
This is a great gift set for anyone who may have been overdoing it in the lead up to Christmas, and their skin needs a bit of TLC and a detox. The set contains Super Greens Detoxifying Facial Scrub 125ml, Super Greens Detoxifying Clay Masque 100ml, and Super Greens Nutrient Rich Facial Moisturiser 125ml, all of which are rich in a super green blend of active ingredients and antioxidants to promote a healthy complexion. The set is suitable for normal and oily and dull skin types. RRP $29.95